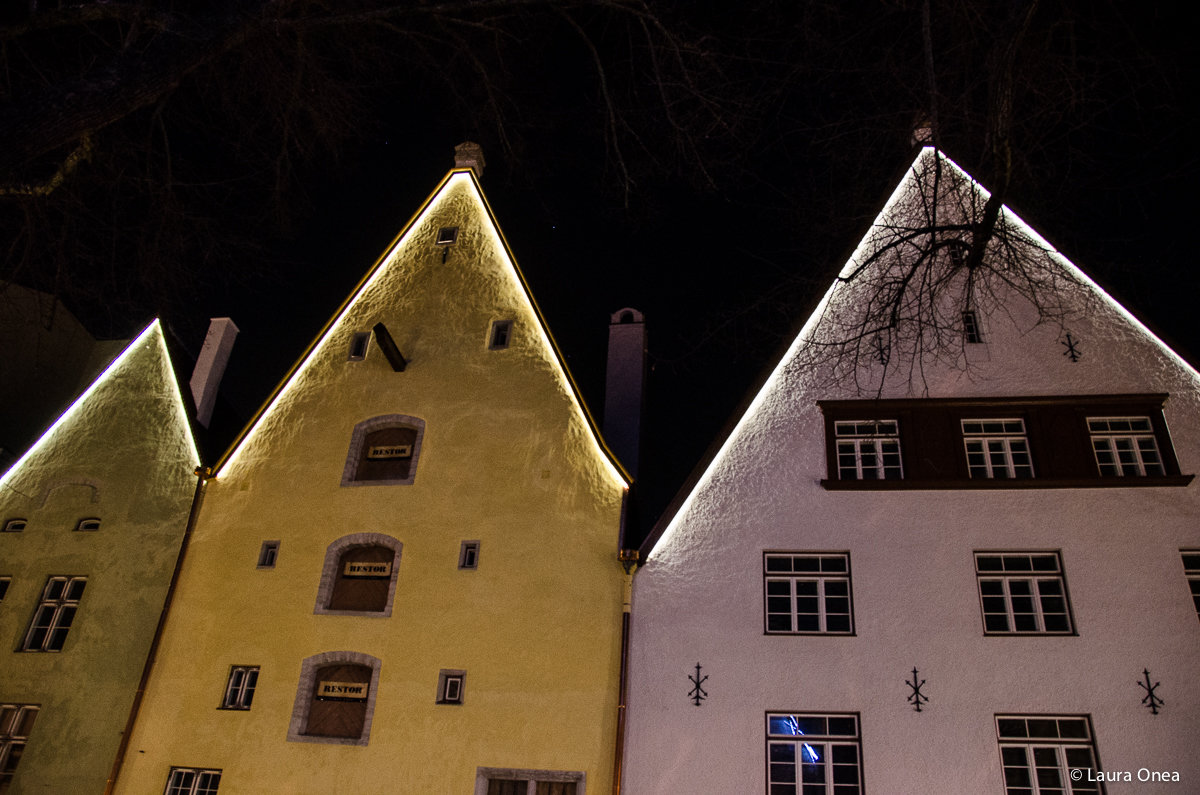 The first thing that tickled our senses when we set foot in Riga was the women's local port: fur coats and rosy cheeks. I don't know if it's this combination or their natural beauty, but they looked fresh and charming. If you are environmentally friendly you would probably make a wry face when you glance the first 2 or 3 ladies wearing a dead animal with such naturalness. But after a deeper breathe in and breathe out of a terribly cold air, you realise that, in a country like that, possessing a fur coat is no longer a luxury or a caprice but a necessity.
Riga during winter is like a vintage fairytale. After a springy London, an unusually grey and dry Finland, swimming through fluffy and sparkly snow in Riga was pure delight, so we slowed down our pace from the airport to the accommodation only to enjoy the childhood effect that snow had on us. It was already dark outside when we arrived, which made it possible to be welcomed by a beautiful display of festive lights. I have never seen such an abundance and diversity of winter decorations in a city before. Love at first sight. We had quite a long journey that day, changing a car, a train, a plane and a bus, but our 30-minute walk through the vibrant city splashed us with a great doze of energy.
Riga in the sunlight didn't impress us less. It's that attractions-free type of city where the most fulfilling thing is to wander the streets and get lost. Walking through the old city centre is like remembering a story that you never lived. Riga is considered to be the architectural Jugendstil capital of the world, while the Latvians are responsible for designing over 60% of the Art Nouveau style buildings. The undulating, flowing line and the asymmetrical form of the buildings are absolutely lovely. I am sure Hansel and Gretel would be jealous of the design! And it's a photographer's delight to capture all the details inlaid in the constructions (which are not few) and make up his own piece of art.
For a lover of hand crafted objects this is the place to be. It's impossible not to bump into the cosy boutiques where you can find many nice things from traditional clothes and accessories to decorative objects. This is one of the things that, in my opinion, makes for the authenticity and character of a place. I am tired of all the kitschy touristic souvenir shops. Oh, and I think Latvians are obsessed with amber. Whether you are in a classic souvenir shop or in a fancier boutique, you will be overwhelmed by the multitude of amber jewelries. So you have plenty of choice if you are into this honey looking gemstone.
The food in the city is delicious. And cheap! There are many options available and it's impossible not to like the international cuisine of Flying Frog (Lidojošā Varde), the medieval cates from Rozengrāls, or the treats from the Gastronome buffet. Oh, and you will find quirky tea shops and cafes everywhere. Just keep on wandering the streets. 🙂
If you go further from the centre, the scenery changes considerably. There are many old buildings begging to be renovated along with communist blocks of flats. But although there is probably room for improvement, overall, I didn't get the feeling that the decadent vibe of this part of the city would reduce the city's charm. On the contrary, I've always enjoyed this mix of displays, of history and present time. It tells stories.
Tallinn, on the other hand, is a bit more revamped, but it reflects the same beautiful medieval painting. So once you're done with wandering the storytelling streets of Riga, but you don't want to exit the specific state of being, head to her brother. Or sister? Never mind. ;))
Same as Riga, Tallinn is very richly decorated and lit during the holidays. I loved the hanging apples on the windows as baubles. Strolling through the old city centre of Tallinn when it gets dark is like reading several bedtime stories during the same evening. There were few people on the narrow streets that made up a magical labyrinth, and you could feel the stingy air from head to toe. But then if you peeked inside each building, the situation changed. There was laughter, and many people drinking and talking, and you could feel the warmth. Which reminded me of one beautiful but sad story by Hans Christian Andersen, 'The Little Match Girl', only we weren't helpless and trembling. And I felt gratitude for that.
It's worth mentioning that both cities are much more evolved and modern than we had imagined. Not only that most of the locals speak English and that they have English translations for almost anything on the streets, but they also set WiFi spots everywhere, including in some of the car parking areas. Estonia was the first country in the world to use online political voting and was ranked highest across Europe (96%) for schools using computers and having access to internet. All these may come as no surprise if you consider that Estonia ranks second in the world when it comes to literacy rate (99.8%). Another thing that caught my attention was that people were wearing safety reflector vests or other accessories when it was dark. Animals too. And it seems that they have a law for this.
Both Riga and Tallinn made a surprisingly good impression on us and we were seriously thinking of grabbing some friends and spend a future New Year's Eve or Christmas here. The cities are magical during winter. And what else? Well, they are definitely incomparably less crowded than any other popular holiday destinations in Europe. The food and the accommodation are very nice and very cheap. They have plenty of colourful and quirky places, from restaurants to cafes or clubs. On the other hand, we'd like to come back when green is back, in spring or summer, to enjoy what makes almost 50% of these countries, that is forests and wildlife. Oh, and did you know that Latvia has a 'prison experience' hotel, where you get the chance to stay and live like a prisoner? The reviews say it's really worth it. So let's put it on the list. 🙂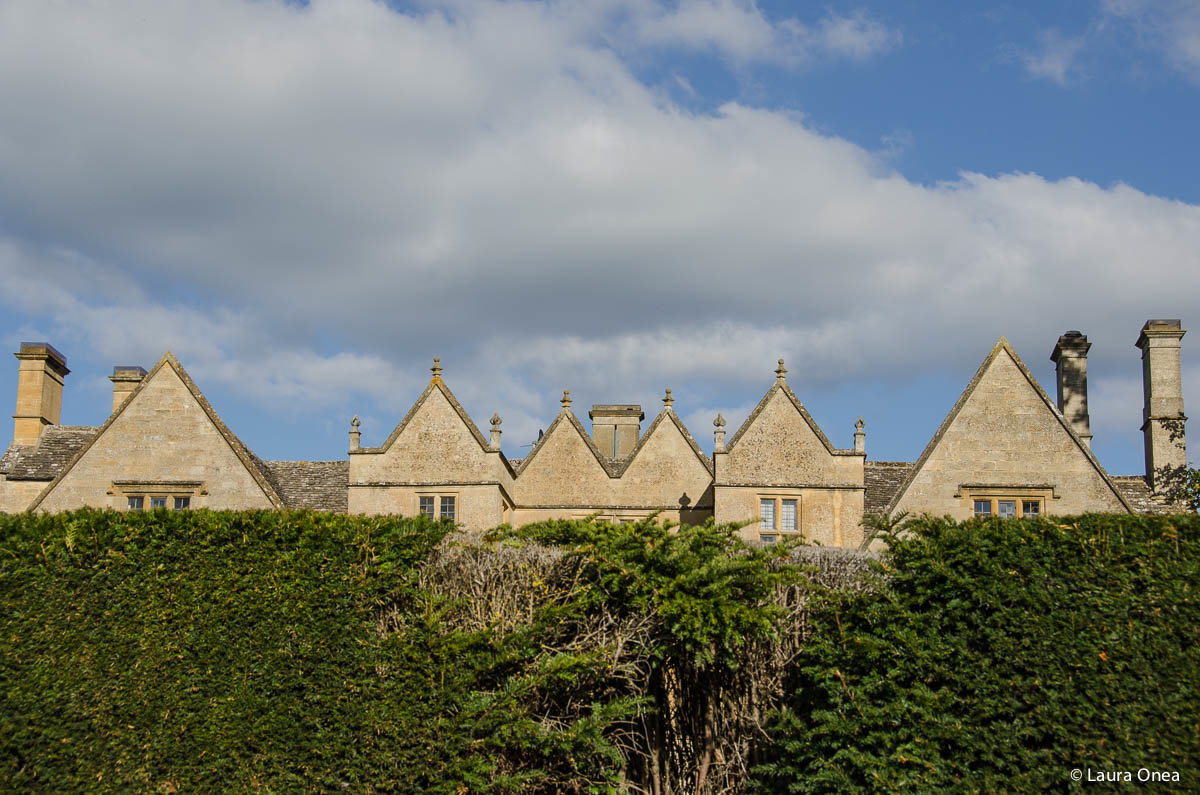 Updated on January 27, 2016
What do you want to do when you grow up? Well, older, in this case. Though, I wonder if growing up is a matter of aging or a cumulative effect of how you respond to experiences in your life. Probably both. To answer the question: I would move to rural England and own a tea shop. A small and homey tea shop luring passersby with an enchanted scent of roses and steamed milk, in the same way Jean-Baptiste Grenouille explores the emotional meaning of essences in a perfume, in Suskind's mesmerising book "Perfume: The Story of a Murderer". (If you haven't read it, or watched the movie, I urge you to do so. It will exalt your senses.) Don't panic, I won't turn into a cold blood criminal. :)) I am pretty sure I'll be a cool but warm and friendly lady sharing stories with her guests all day long.
However, I think you need to be prepared to face the solitude and peacefulness. Yes, yes, you heard me well, to face it. Sometimes we also need to learn (or relearn) how to embrace things that theoretically should have a positive effect on ourselves. I am almost sure I am not the only one who needs to overcome that restlessness that makes us feel uncomfortable if we sit too long in either a quiet or a noisy place. But it's ok. 🙂 So until I reach that deep feeling of comfort and peace with my own thoughts I will continue to treat myself, once in a while, with the charm and cosiness of the countryside.
What I like most about Cotswolds is that it gives you time and space to fantasize. And if you are not a big fan of the girly airy fairies, then you might as well imagine hobbits welcoming you into their tiny houses, some almost entirely covered in creeper plants. Rural England is a painting in itself.
For a diversity seeker like myself, the area is pure delight given the mixed feelings it arouses. Now I am wandering in a fairy tale, or playing hide and seek in Pan's labyrinth, while the next moment I am an aristocrat drinking tea with the Queen during a golden age. Time travel at its best.
One of the most popular villages in Cotswolds, if the not the most popular, and if I remember well, the first one I set foot on, is Bibury. Love at first sight. The main and most visible attraction are the charming cottages always dressed in multicoloured flowers and plants. But this festive look on the outside stands in a subtle contrast with a feeling of peacefulness and warmth you could guess by peeking inside. I would feel like knocking on every door, but I master the impulse and end up taking a photo, or several. I recommend the Trout Farm in the village, by far the best cooked trout I have ever eaten.
Other two nice villages that fall in the same popularity category as Bibury are Bourton-on-the-Water and Chipping Campden, famous for the honey coloured stone architecture, romantic bridges that cross the river, local tea shops, antiques and picturesque scenes. They tend to become a bit crowded during high season but you won't feel suffocated like when you are experiencing the crowd of a big city.
The places that have the most powerful effect of reverie on me are the smaller ones, idyllic villages like Stunton or Lower and Upper Slaughter. It's unlikely you cross your path with more than 5 people, and it's oh, so quiet. You wander along till you become incapable of distinguishing magic from reality and wish you could linger there for some time. Forget the diet and treat yourself in one of the local tea shops with their favourite scone and cream tea. Choose the smallest tea shops as they will give that cosy feeling that you have entered someone's home.
We have recently bought bikes (well, actually, I have recently learnt to cycle, but don't tell anyone!) and the Cotswolds is our favourite area to practice, enjoying beautiful views and peacefulness. And less traffic if any at all! There are plenty of routes between villages but you can also choose one of the off-road trails. Broadway Tower Country Park, for example, is home to a herd of Red Deer and includes several peaceful woodland trails. There are nice views from the top, where the tower is. Another good option is to cycle along the Kennet and Avon canal from Seend to Devizes.
If you like autumn, just head to south Cotswolds and prepare for a delightful fashion show performed by the Autumn Fairy herself. She dresses all her children, the trees, in a haute-couture richness of colourful clothes. Westonbirt Arboretum hosts a beautiful collection of rare and exotic plants and trees over an area of 2.4 km². Most of them were planted in the mid-19th century. Never in my life have I seen so many reddish trees in one place, it's like entering a vibrant painting which stays in your mind for a long time.
Another special and enriching thing to experience in the area is to look for an accommodation through Airbnb. And if you haven't yet, this is the perfect place to start doing it especially because people living here often resemble the characters in the stories I was telling you about. Like place, like people, so to say. Most of their homes are converted barns or very old houses, and people like collecting vintage pieces of furniture or even building furniture themselves, which lends character to the house and recreates a historical atmosphere. In case you haven't noticed yet, we are very fond of dogs, so each time we have the occasion we choose an accommodation with dog/s included, which makes the experience even better. 🙂
I have been to the area several times so far but I never seem to get enough. There are many hidden corners and secret passages that await your imagination to make up a story about them and then picture yourself in it. See you soon!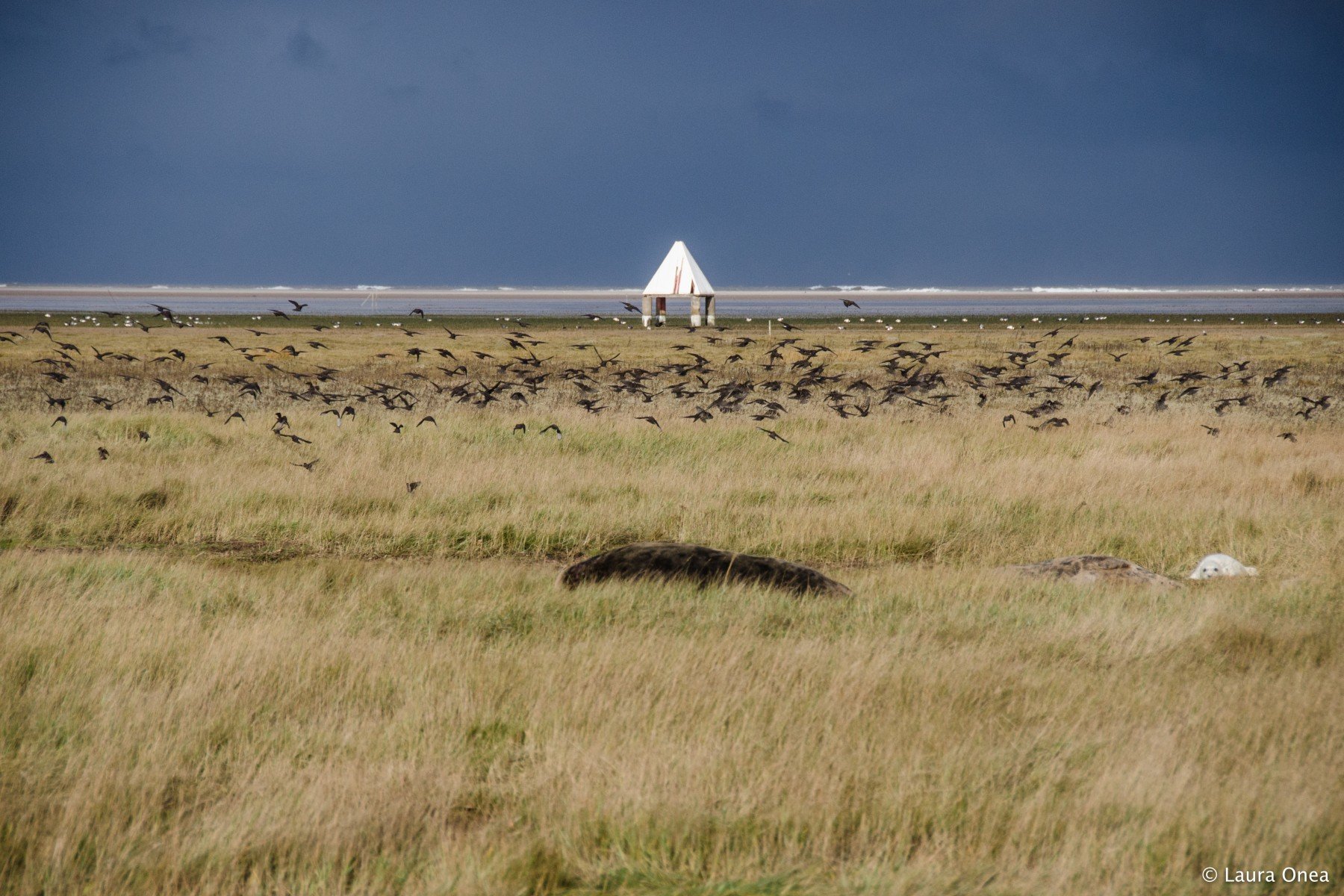 Since I have moved to London 8 months ago, I have fortunately realised that UK is not only about… London. Or about Oxford, or Cambridge, for the prestige and Harry Potter lovers. Or Manchester, for the football fans. Or about any other city or place that one, my old self included, would easily picture, mostly because these are the most promoted ones.
My boyfriend is very keen on photographing birds and animals in their natural habitat so he implicitly researches the subject and follows any opportunity. Thus his sudden proposal to make the most of one weekend and go see the grey seals and their newborn pups didn't come as a surprise. And as birds of a feather flock together, it didn't take me much to get enthusiastic about the idea.
Donna Nook Nature Reserve is a strip of land along the east coast, approximately 250 km north from London. The area is very rich in wildlife, especially when it comes to species of birds and grey seals. Part of the land is also used for bombing and firing testing by the Ministry of Defense. Wildlife seems to have become accustomed to regular aircraft bombing. November and December are famous for the seals' birth and mating season, which gets the attention of many, especially photographers and families with children.
After seeing some pictures with the fluffy (I must admit that for me, 'fluffy' is a strong word in itself, I cannot stay aside from anything that bears this characteristic :- ) ) newborn seals, I got very excited by the trip. It was a new thing for me to see, live, animals engaged in such a intimate and heartwarming experience. Few days before we got there, more than 700 had already been born, so you can imagine the thrill.
Being there was far more beautiful than I actually expected. The temperatures dropped so considerably on that weekend, you could intensely feel the slap of the sharp winter wind. I remember that no matter how many layers of thermal clothes I would put on me I could still feel the daunting cold. The perk of it was that not too many dared to go out on that weather, not to mention do something that didn't involve too much movement, like seal watching. Which of course meant less crowded.
I didn't expect to see sooo many seals in one place. I actually don't remember seeing any that close, in their natural environment. You start hearing them before you reach the spot and the sound may seem a bit creepy at first but this feeling soon diminishes as you enter their world in more depth. The strip of land where the seals can be seen covers about 2 km and there is a fence between them and the visitors, as trespassing can harm both animals and people.
The spectacle was absolutely fascinating, and quite diverse. There were, of course, the intimate and emotional moments with mothers caring for their babies, kissing them, breast feeding and guiding the clumsy pups to their breasts. But there were also the funny moments when you could spot seals rolling from one side to another or the fattest ones sleeping with a smile on their faces. Then the also intimate but a bit uncomfortable moments when the females and the males made love on a bed of… no, not roses, but mud, or the intense ones when mothers were defending their babies from other intruding seals.
But on top of all, there were the adorable and fluffy baby seals. I don't remember seeing anything fluffier than this. It was hard not to pet them but I knew this was not possible due to the fact that mothers would have abandoned them if they sensed any human smell on their fur, so I enjoyed watching.
We arrived at Donna Nook 1 hour before sunset which didn't leave us too much time to linger on singular experiences and take closer photos. Plus, we were shivering, being very cold. I actually felt a bit sad to leave the seals there on that weather but I was reassured that they have enough fat to keep them warm. :)) Our accommodation was at 15 min drive from the Reservation and one of the many wonderful and authentic experiences we had since we've started booking through Airbnb. Our guests' home was an oasis of warmth and cosiness, the perfect antidote for frozen hands and feet. We slept well and woke up quite early (though not as early as we have initially planned) to go catch another glimpse of the seals. Early in the morning and before sunset are the best options to go see them, especially if you arrive there during the weekend, because there are considerably less people and you don't have to squeeze to catch a nice moment and linger on it. As the day moves on, more and more people reach the spot and the moment loses its charm.
The seals seemed more engaged during the morning. You could still spot the fatty ones whose only activity was to roll from one side to another or to sleepily enjoy the mud. Once in a while you could see their head rising and scanning the surroundings, but other than that, they couldn't care less. :)) But there was an overall feeling of dynamics. As dynamic as a seal can be, given the fact that they are limited to crawling. You would be surprised, though, how quick and powerful they are, despite being so fat and having no legs, especially when it comes to defending their pup or fighting for a female.
Witnessing the first minutes of a newborn baby seal was one of the most emotional moments we experienced at Donna Nook. We reached the spot right after the mother gave life to a small and confused pup. She was now washing him, and probably teaching him how to experience the surroundings. Mothers stay with them until they learn how to survive. More than 1000 baby seals had been born by then and you could see them curiously sniffing the world, with their big round eyes and playful paws. Most of them came very close to the separating fence as if they knew they are going to melt humans' hearts with their cute little faces.
As more people arrived and blocked most of the views, we decided that was the end of the journey. We didn't leave without buying some local treats like Brussels sprouts, cauliflower and other goodies of the kind.